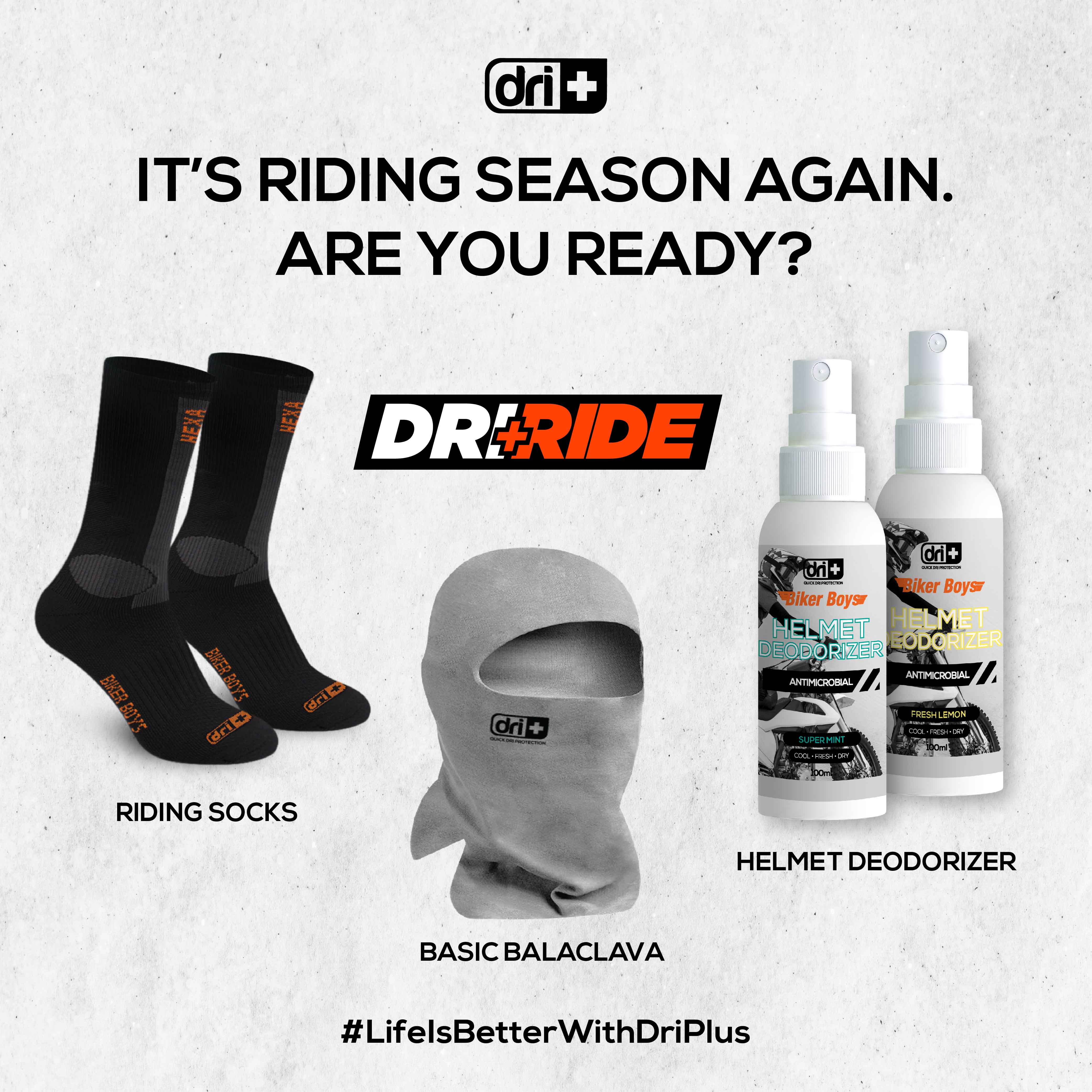 Summer is almost here! Choose the right clothing so you can sweat comfortably during your rides on the road. Choose Dri Plus. 
Dri Plus is specially treated with DRI+ Technology providing moisture-wicking properties that allow sweat to evaporate faster from the skin. This technology is the best during this season, because let's be honest, you wouldn't want to worry about unnecessary smells right?
Here are our top items with DRI+ Technology:
BALACLAVAS & NECKGAITERS
Dri Plus Men's Washable Multi-Functional Moisture Wicking Balaclava
Link: https://bit.ly/3tdtO18
Dri Plus Men's Multi-Functional Moisture Wicking Neck Gaiter
Link: https://bit.ly/3tVOppB
APPARELS
Dri+ Ride Men's Motorcycle Dri Jersey Long Sleeve
Link: https://bit.ly/3JguUyK
Dri Plus Men's Cotton Anti-Odor Sweat Wicking Shirt 
Link: https://bit.ly/3IbQqDn
SOCKS
Dri Plus Men's Motorcycle Socks
Link: https://bit.ly/35Sj9QD
Riding in the heat results in excessive sweating and a stinky helmet. Use Dri Plus Helmet Deodorizer to keep the odor away. It is specially formulated to remove helmet's sweaty odor by targeting 99.9% of odor-causing bacteria. It is also enhanced with DRI+ Technology with odor capture feature to keep your helmet smelling fresh all throughout your ride.
SCENTS
Dri Plus Helmet Deodorizer
Link: https://bit.ly/3tc4U1S
Mar 23, 2022

Category:

News
Comments: 0