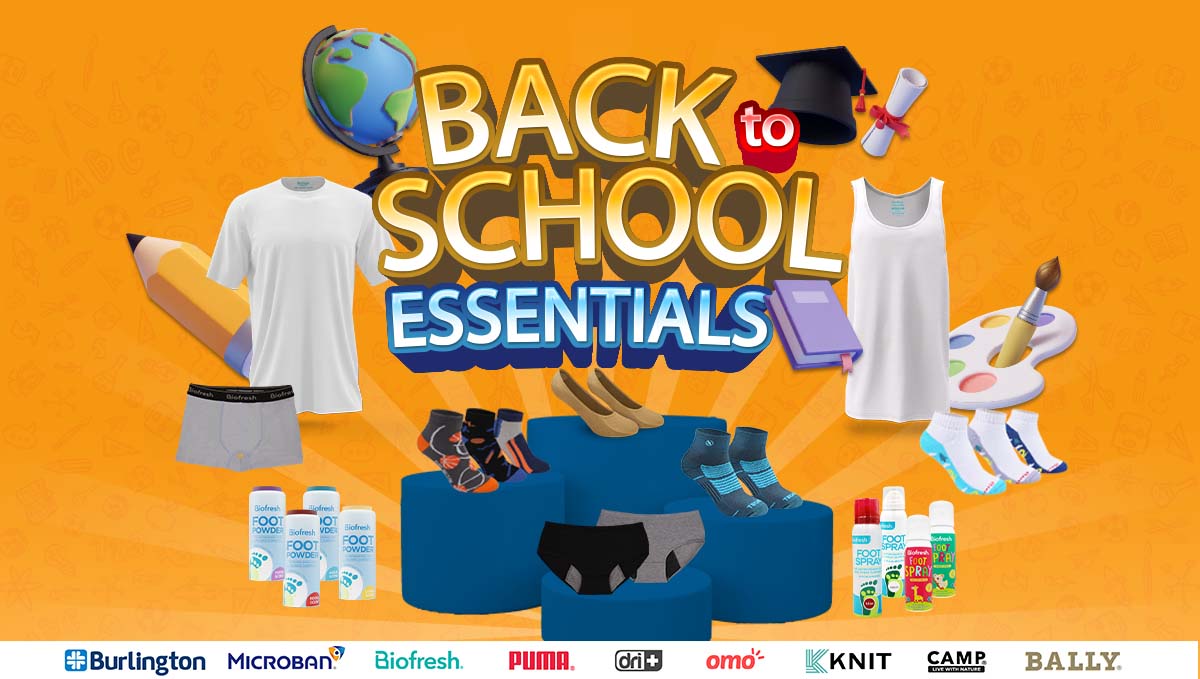 It's school time once again! School uniforms will likely be the clothes your kid will wear the most frequently, almost daily. As a result, these must be of high quality to look presentable and feel comfortable because children, particularly, have delicate and sensitive skin.
Essential Schoolwear Apparels
1.Inner shirts
Along with school uniforms, inner shirts are mainly worn as a base layer, as it helps prevent a sheer top from being see-through. Essential undergarments, as well as sleeved & sleeveless shirts or camis and tees, are usually worn under your uniforms as needed. It comes down to preference when choosing the type of undershirt to wear.
Sando or Sleeveless Shirt 
Kids usually wear Sando Innerwear as they tend to care less about wiping off their sweat. That's why parents would make their kids wear breathable sleeveless undershirts.
Sleeved Shirts
On the other hand, sleeve shirts are often worn as undershirts to hide "lumps and bumps" under their clothing. Men and women alike deal with the dreaded "muffin top." Undershirts can help hide those bulges from the chest up to the shoulder by providing a far smoother, more sleek appearance under any shirt, blouse, or dress, whatever the school uniform might be.
Biofresh Anti-microbial Sleeved and Sleeveless Shirts serve as perfect undershirts, especially for kids, as it's breathable, making you feel comfortable. Its Anti-microbial Technology makes it the ideal partner for protecting your kids from odor-causing microbes & bacteria buildup so you can be worry-free about your kid enjoying their play time and other physical activities at school.
2.School Socks
Knowing the two main types of socks familiarizes you with the advantages of each class; this results in knowing what kind of socks to wear for every school activity.
Sports Socks
Sport socks come with a thicker feel, designed to provide extra comfort, perfect for Physical Education classes and other school sports activities, giving additional support and protection to the feet.
A series of sports socks from Burlington is catered to provide comfort and protection, especially on demanding physical activities, secured with technical benefits designed to function even with extreme activities. Key features include Reinforced Cushioning, Breathable Aircool Panels, Arch Support, Treated with Anti-Microbial Technology, and Moisture Wicking Fabric.
Casual Socks
On school days when there are no heavy physical activities, casual socks, on the other hand, come as thinner socks, promoting a free feeling to the feet and alleviating pressure points of one's feet. Casual socks usually come in various colors and designs. Creative patterns, animations of one's favorite food, and more creative artworks put into socks.
3.Underwear
As wearing school uniform is part of most students' year, we become more choosy when buying the underwear we'll be wearing along with it. We look carefully at the material used and even consider what type of underwear will suit our kids and which one they feel more comfortable in.
Briefs
Men and boys, most of the time, are known for switching up from briefs and boxers depending on the school activity for the day. Briefs on P.E. days and boxers on regular days are the usual choice for males, but in the end, it comes to preference.
Biofresh briefs and boxers with Biofresh Anti-microbial treatment eliminates odor-causing bacteria, making you feel comfortable, fresh, and confident all day. It is guaranteed safe and hypoallergenic. Anti-microbial treatment is effective even after washing 50 times.
Period Panties
Having unwanted blood spots or stains on a student's dress is common for ladies at the peak of their menstrual period. Depending on the menstrual flow, napkins are sometimes ineffective or insufficient to address the volume of menstrual blood. Period underwear is designed with an additional layer of protection to replace pads and liners. However, ladies can use it with a napkin as an extra layer of protection.
The Biofresh Menstrual Panty is moisture absorbent, leak-resistant layer & cool, breathable fabric that keeps you cool, fresh, and comfortable all day.
Essential Foot Hygiene Accessories
Hygienic accessories, conversely, make up for the limitations of the protection provided by the apparel our kids are wearing. Additional foot hygiene practices contribute to keeping one's feet cool, dry, and smelling fresh.
1.Foot Spray
The start of the school year usually comes during the rainy season. It's hard to avoid getting our kids' shoes wet and even water reaching into their socks, causing unpleasant smells caused by microbes and bacteria buildup.
Biofresh Anti-microbial Kids' Foot Spray eliminates odor-causing bacteria and microorganisms, making your kids' feet smell and feel fresh and comfortable while deodorizing insoles. The user can spray it on feet, socks, insoles, and even the insides of the shoe to deodorize and sanitize, killing 99% of microbes upon contact. Hypoallergenic. Safe for kids.
2.Foot Powder
Sweating is a natural function that helps cool your body down in high temperatures. So, while taking precautions by wearing breathable socks and shoes, it is also advisable to take additional measures to avoid sweaty feet. Your best choice is to apply foot powder. These help absorb moisture, keeping your feet dry for longer. 
Biofresh's foot powder is moisture absorbent, keeps your skin dry and smooth, and does not cause skin irritation. Experience a clean life through Biofresh anti-microbial solutions. The user can use it directly on feet, socks, and insoles. Biofresh Foot Powder is available in Aqua, Citrus, and Fresh scents.
Get these items at the official website, Shopee, Lazada, Zalora, and at leading Department Stores near you.
Jul 14, 2023

Category:

News
Comments: 0