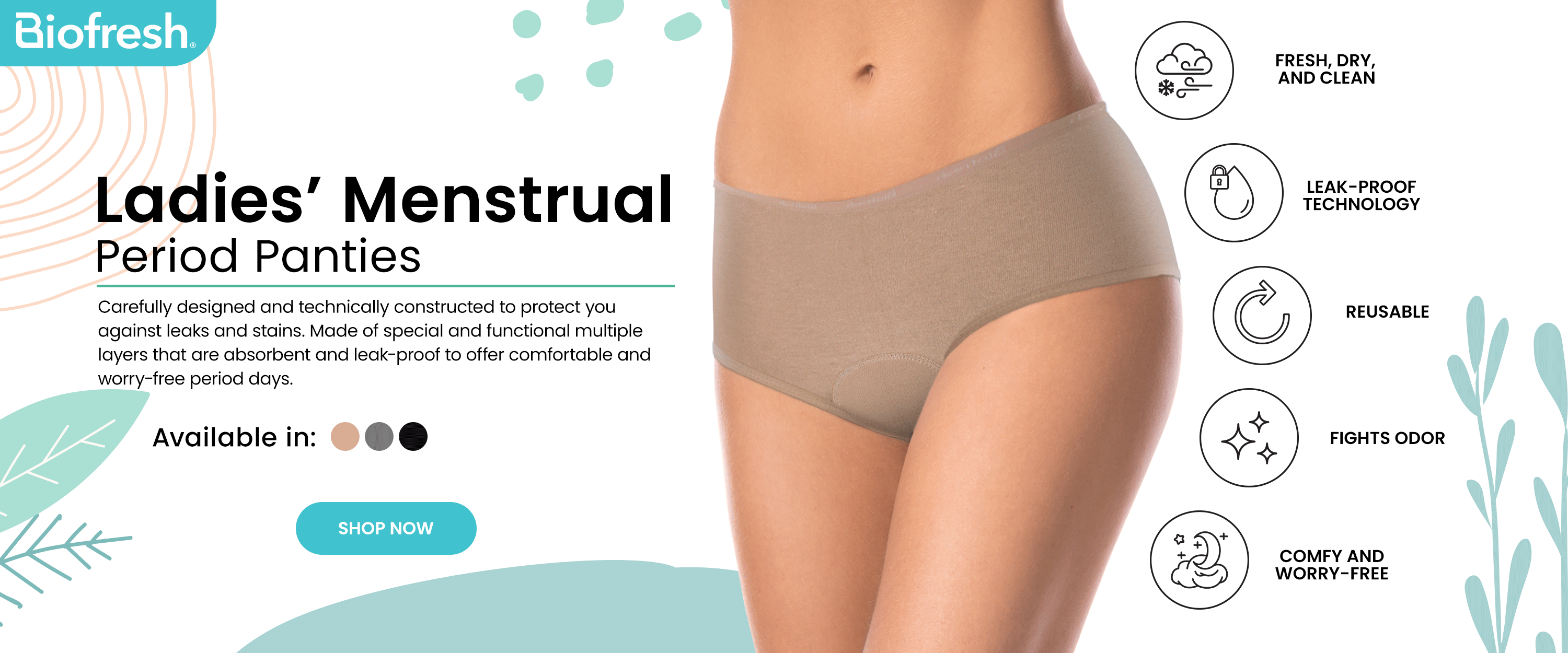 Is it exciting that it is possible to no longer wear pads? Thanks to Biofresh leak-proof technology, we developed a fabric that can replace your pads; or when worn with your pads, can guarantee double protection for leak proof days!
Why switch to Biofresh Anti-Microbial Period Panty?
HEALTH
More natural and more comfortable than sanitary pads and non-irritating like tampons or menstrual cups. Allergy-free, hygienic, no pesticides or chemicals. Wear just like normal underwear – but with much better protection.
ENVIRONMENTAL
Stop using single-use disposables that contributes to tons of non-biodegradable wastes in our landfill and oceans. Help save Mother Earth and create Green Planet.
ECONOMICAL
Reusable up to 2 years with proper care. Save thousands of money from buying disposables and have a sustainable menstrual cycle.
Available Style: HIPSTER, BOYLEG
Holds up to: 8ml of fluid = 1-2 tsp = 1-2 regular pads = 1-2 tampons = 4 – 6 hours
Ideal use: Spotting, light to moderate menstrual flow, light bladder leaks, moderate discharge
Layers of Moderate Period Panty

Layer 1: ​ Moisture Wicking Layer
​Moisture-wicking lining draws away wetness to provide a dry and comfortable feeling.
Layer 2: Absorbent Layer
Cotton-rich fabric that absorbs and holds fluid. Can hold up to 8mL of fluid, equivalent to 1-2 regular pads.
Layer 3: ​ Leak Resistant Layer
​Soft waterproof lining for protection against leaks. Extended from front to rear for a comfortable and worry-free feel.
Layer 4: ​Cool and Breathable Fabric
​Keeps you dry, fresh, clean, and comfortable all day.
How to wash Biofresh Anti-Microbial Period Panty?

Step 1 Run them under cold water until most of the blood is removed. Do not soak, just rinse!
Step 2 Throw them on a regular cold wash laundry
Reminder: Do not use hot water to avoid setting any remaining blood into the underwear.
Step 3 Hang dry and fold them. Reuse, and Repeat on your next period cycle!

What is Anti-Microbial Technology?

Our Biofresh Period Panty is treated with Antimicrobial Technology that eliminates 99.9% microbes and bacteria and fights odors for a fresh and clean feel. Antimicrobial treatment effective even after 50 washings.
Where to buy Biofresh Anti-Microbial Period Panty?
We are available in all leading department stores, Biofresh Official Shopee Mall and Lazmall, and
www.biofreshph.com
. It's time to shop!
Feb 04, 2022

Category:

News
Comments: 0